How We Think
"Where is the wisdom we have lost in knowledge? Where is the knowledge we have lost in information?"
We regularly write about our viewpoints on financial planning, the markets and on the economic and investment environment. We conduct workshops and participate in events in our areas of our expertise. Join our mailing list to keep up to date with our latest news.
Insights that matter
We know there is a lot of investment information out there, and we seek through our communication with you to cut through the chaff and to address you simply and directly. We have a discipline of never writing any commentary that is longer than two pages, no matter what the subject, and we try to keep the knowledge and wisdom quotients high therein.
When we run across good articles that address something at the heart of our work with client portfolios and financial plans, we happily share them with our clients and community and offer our curatorial expertise to build a base of knowledge.
We are glad to be in touch with our clients at any time with thoughts about their investments. We recognize that in periods when a fearful market is in the headlines comments from us are welcome and we try to reach out as much as possible during the difficult times. We do so electronically for rapid communication and welcome your responses and questions.
We are happy to be on the record with our investment thinking over what has been a particularly tumultuous and interesting time.


Join our mailing list
Become a 'friend of North Berkeley' and receive our commentaries, news and events
January 2018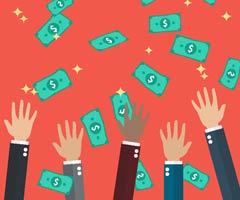 Annually in January, of course, market predictions for the future abound. Reading the news in January is thus an exercise in incredulity – about the certainty the prognosticators declare about an inherently uncertain future.